Stefon Diggs Wes Brown break it down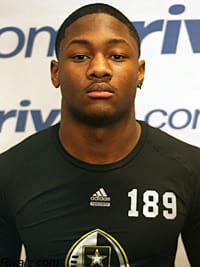 OLNEY - There might not be a better one-two punch in the nation next year. Good Counsel's two ballyhooed recruits,
Stefon Diggs
and
Wes Brown
, form a receiver-running back combination that's been dubbed downright unstoppable.
Diggs, a 6-foot-1, 189-pound receiver, is a potential five-star prospect who has already cemented himself among the elite players in the United States. He's a returning First Team All-State performer, an Army All-American Combine MVP and holds over two dozen Division-I scholarship offers. Diggs, who runs a legitimate 4.4 40-yard dash, caught 43 passes for 811 yards and rushed for 506 yards and 23 total touchdowns in 2010.
Diggs' best friend, Brown, has something to prove next season. The 6-foot, 190-pound running back was supposed to have a shot at state MVP this year. But a severe ankle sprain suffered in Week 1 against St. Xavier knocked out more than half his season. Brown, however, still managed to rack up 611 yards and nine touchdowns on 80 carries, giving him momentum heading into his senior year. Brown, like Diggs, has double-digit scholarship offers and participated in the Army All-American Combine.
MdHigh publisher Dave Lomonico recently visited Good Counsel for a sit-down interview with the two Falcons stars. They discussed everything from their childhoods to their rise through the ranks to their weight of expectations to their future goals.
Below is the full question-and-answer transcript from the interview.
OK, before we start into your high school careers I want to talk to each of you about your development as football players. Talk about how you got involved with the game and how you progressed.
Brown: I first started getting into football the summer when I was nine years old. I saw my brother playing outside, but he said it was too hot so he quit right then and there. I wanted to show him up, so I went out and started playing (laughs). Now, football isn't even something I do just for fun to show people up. It's my life. . . .
When I joined a [youth team] that fall when I was nine, the coaches all started fighting over me. They were all arguing over what age group I should play in - nine, 10, and even with the 11 year olds. It was kind of funny, all these old guys fighting over a nine-year-old kid. . . .
At first I started as a receiver; I didn't move to running back until I got out to [Olney] and played for the Ultimate Bruins [youth team]. Then, when I got to high school, I played jayvee my freshman year because Good Counsel already had two horses on varsity [Jelani Jenkins, Caleb Porzel). Then sophomore year I came up with something to prove.
Diggs: I started playing football at five going on six years old. They had a rule that you had to wait until you were at least six to play. My dad started me playing football because he wanted me to have something to do. My older brother would just be hanging around and getting in trouble, and my dad wanted me to be different. . . .
It's funny, I actually wanted to play basketball at first. But I was so aggressive that I'd always foul out. So that got frustrating and I decided I better try a different sport (laughs). So that got me started at football, where being aggressive is the name of the game . . . I played quarterback my first year and running back all through middle school. But then my size caught up to me in high school. . . .
My freshman year at Good Counsel, I was on varsity right away. But I had a lot to prove. There were a lot of people out there who resented that I was on varsity and didn't respect me. But I learned a lot and then when I got my first start against Friendship Collegiate I sort of showed I belonged. I took two kicks back for touchdowns, one 56 yards and the next 50-plus. So that felt good; it really got my confidence up. I just rode it from there the next two years.
When did you realize you could really do something special on the field?
Brown: It was that first time I stepped on the field at nine years old. I went out and ran a post and no one could keep up with me (laughs). I just ran by everyone.
Diggs: It had to be that punt return and kick return I talked about earlier. That was the game I proved myself at a high level. It was against Friendship, which is a solid team. At first I was just blocking at receiver and not doing much, but then I got a chance to return a punt. I practically took it all the way to the house. Problem was, I got caught. I still can't believe that (laughs). I was kind of embarrassed. But then I got another chance and I went the distance. That felt good.
Where did you guys grow up? Talk about your upbringing.
Brown: I grew up in Baltimore. … I don't live there now, but I still have a house up there… I live with [senior Good Counsel quarterback] Zach Dancel and his family now. I like that a lot because I don't have to worry about too much anymore, like if I'm going to eat at night (laughs) …
For me, it was tough [in Baltimore], but only if you really made it tough and let it get to you. I grew up in the hood, and It's a place where if you stick around too long you probably won't be here for a long time. For a little bit I had to sell some stuff just to get by. But my mother started to get things cleared up for me and my aunt started helping out, too….
Then the Dancels took me in when I came out here my freshman year. Coming [to Good Counsel] made me realize I could overcome everything I went through [in Baltimore] and be bigger then all of that. I don't do what I used to do anymore. …
But I do go back up to Baltimore on the weekends. My coaches try to keep me from going back sometimes, but that's where I grew up.
Diggs: I lived in a lot of different places. I did a lot of moving around because of my mom and dad. I don't know what it was with my dad, but we were always moving. We lived in North Carolina and all over Delaware, Virginia and Maryland. Just around here I lived in Upper Marlboro, places in Montgomery County and Gaithersburg. I guess the advantage of that is I know a lot of people (laughs). …
I live with my mom in Gaithersburg now. My dad is deceased. He died of congestive heart failure when I was 14. He used to drink a lot when he was younger and it caught up to him…
It was a tough time. I never really had a close relationship with my mom - I was a Daddy's boy. My dad took me everywhere and did everything with me. So when you lose the only really close person you have, that's hard. But I'm fine now. I try to look at is a positive -- a growth experience.
How did you guys end up at Good Counsel?
Brown: I didn't know anything about recruiting or high schools or anything like that. A DeMatha coach came to see me like every day. It was annoying; I had practice and work to do. Then the Good Counsel guys started showing up and I used to hide from them (laughs). But one time Good Counsel brought up their entire staff and I actually liked them. So I decided to go to school there.
Diggs: Before my dad died he got me involved with Good Counsel and all the coaches there. I guess they liked what they saw, so here I am.
How did you deal with all the expectations coming into Good Counsel?
Brown: When we first came in we knew we had a lot to live up to. But Stefon and I connected over that and I think that helped drive us. It helps that we lived up to what they expected of us (smile).
Diggs: You know, we knew the expectations were high and it was kind of crazy. We were being hyped before our freshmen years. We were being touted as maybe the best recruiting class Good Counsel ever had. They were talking about this combination for some time. But we just took it all in stride and worked hard to make sure we didn't fail. And I guess we've done OK (laughs).
Now, you guys seem like two opposite personalities. We've got a quieter, more subdued Wes and a loud, eccentric Stefon. How did that happen?
Brown: (laughs) I mean, we have our days when one of us is talking and the other one is really quiet. It just depends on how we're feeling at the moment. I can be real quiet, and then I'll see Stefon at my locker and all of a sudden I'm talking. You just caught me on a quieter day (laughs).
Diggs: Yeah, that's pretty much the deal. I mean, I'm usually always talking (laughs). I seem to always know exactly what to say and when to say it. But sometimes I do like to sit back and take it all in.
Yeah, Stefon you're a talker for sure. What's with you receivers and talking? Is that engrained in you guys? Wes, on the other hand, he's a running back. They aren't like that. What gives?
Brown: Hey, sometimes I'm talking out there (laughs).
Diggs: It's how we were brought up. Us receivers, we don't take nothing from no body. That's the only way you can be successful as a receiver. You have to believe you're good to be good. …
And if someone says something wrong out there, well, you just have to speak on it, too (laughs).
Talk about each other. Stefon, you talk about what Wes means to you on the field and vice versa.
Brown: When I'm mad, Stefon picks me up and tells me to get my head back in the game and run the darn ball (laughs). That gets me right….
That pretty much happens at some point every game. Against DeMatha I was getting into it with EJ Levenberry, their linebacker. I wasn't going to say anything, but he kept talking. He was saying some things I couldn't ignore. It got to me a little bit and I said something back. But Stefon quickly grabbed me, slapped my helmet and said, 'Get your head back in the game.'
Diggs: Usually I can't shut up on the field, but I'll say this about Wes: he's the only guy that can tell me to shut up and I'll listen (laughs). …
Wes always picks me up and tells me what has to be done. When he got hurt, I got a little mad -- he left me out to dry. I got a little frustrated playing running back, having to pick up where he left off. But Wes would keep encouraging me, giving me advice. Then when he was ready to come back and play, he was like, 'Alright, it's over - get your butt out of here and play receiver.' (laughs)
There are a lot of talented players at Good Counsel, but you two are sort of like the face of Good Counsel football this year. Do you feel the weight of responsibility?
Diggs: By now we're used to it. We just shrug our shoulders and keep our minds right. We know what we have to do to keep it up.
Brown: Right, we know how we're supposed to act, and we know what's expected of us. We're not shying away from that.
Talk about all the fan attention you guys are getting now? Does that get kind of old?
Brown: During basketball games we'll be sitting there on the bench before a game and all these people are pointing at us, trying to talk to us. So we notice it. But we're used to it and we just laugh about it.
Diggs: We have all these friends I didn't know were my friends (laughs). Facebook, text messages, everything. But it's all good. You learn to take it all in and roll with it (smile).
What about the recruiters, scouts and all of them? They ever get on your nerves?
Brown: Yeah, definitely. Sometimes I just keep my phone on silent so I can't even see the calls coming in.
Diggs: I change my number all the time so people will stop calling me (laughs). It gets old real fast.
You two have been hyped up big time. But do you guys ever hear any criticism?
Diggs: Oh yeah, we hear a lot of that. There's a lot of haters out there. But I don't really like to call them haters - I call them secret lovers. Inside, they all really want to be just like us (laughs).
Brown: We worked so hard to get where we are, we don't really think about the critics. They're just jealous.
I know your coaches keep you guys level-headed, too, right?
Diggs: Oh yes. They'll throw us under the bus at any time. They'll make us run and run and run. And we can't say much when we're running (laughs).
Brown: The only time our egos get big is when it's us two talking together. We never let on in public.
You guys both participated in the Army All-American combine. How was that experience?
Brown: It was fun. And then when they told us we were going to meet CJ Spiller (Buffalo Bills running back) we knew we must be something special. … But there were like three, four other guys there who were pretty good, but it was all [me and Stefon). We owned that combine.
Diggs: Actually, I have a bad story (laughs). I got picked for a little demo for one of their commercials and I had to catch a pass. And, typical me, I dropped the pass. So that was really embarrassing. People were saying, 'He gets to do the demo and he drops a pass? What's up with that?' (laughs)…
But it was all good. I made up for it in one-on-ones. After that, it was a wrap.
Wes, you hurt your ankle last year in Week 1. Talk about what that was like to miss all that time.
Brown: I think it was the second play of the season. On my first run I got stopped in the backfield and kind of spun around. Then on the next play I just got hit, and a bunch of people landed on me. I hopped up like I usually do and walked back to the huddle. But then I broke down. I thought it was a cramp, but when I tried to run around I kept falling. I tapped my helmet to come out of the game. Then I started walking to the sideline and I heard my ankle go click, click. I just kind of gave out. …
I didn't think it was anything bad at first. I asked the trainers and they said my muscle was swollen and tight to my bone. They just wrapped it and wrapped it, but I thought it would be OK….
When I heard [the diagnosis], though, I thought I was done. They said I could either get a cast, a boot or have surgery. I said, 'I'll take the boot.' After that I kept trying to walk around full range, but I wasn't ready. The [doctors] told me, 'You keep doing that and we're going to put you in a cast.' So I had to leave it alone. I just did my rehab and kept drinking my milk like I always do (laughs). Hey, it's good for your bones (smile)….
Then I got back against McNamara after the doctors told my coaches I was 100 percent. I wasn't completely feeling it, but I was anxious to get back. I had three runs for 30-something yards and it felt good. But I couldn't go all out. I felt like I was hurting myself again. So I came out of the game. The next week, though, I was good.
Do you feel like you have something to prove next year, Wes?
Brown: Oh yeah. I had high expectations for 2010. I looked at the Gazette and they're saying how I'm preseason player of the year -- this, that and the other. Everybody kept saying three names: Wes Brown, [Gonzaga quarterback] Kevin Hogan and Stefon Diggs. But after I heard that, I just had a feeling something bad was going to happen. And it did. …
Now I have to go out and prove [the papers] right. I'm back, and I'm ready to show everyone what I can do.
Stefon, when Wes went down and you had to take over at running back, what was that like?
Diggs: I was actually really upset, because when we're not together, it's not the same. We go hand-in-hand on the field. It's not Wes Brown. It's not Stefon Diggs. It's Brown & Diggs….
So when he went down I was like, 'What are we going to do now - we don't have a running game?' I was asking the coaches constantly, 'What's up with Wes? Is he coming back? Is he done? What's going on?' But I never got a solid answer….
I think when they realized he was going to be out awhile, they decided to move me to running back. I started right after the Gilman game. But, you know, I thought about it and I knew I'd be OK back there. I played running back growing up and I knew the plays from last year. I had Wes on the sidelines to help me, too. So I felt I would get adjusted and I'd do fine. …
And I did do well; I felt like I helped the team out. (Except against DeMatha. When you go against that defense, you need to be an actual running back or they'll snap you in half. So I played receiver that game). …
I wasn't ready to move [to running back] permanently though. I was glad when Wes came back. I mean, I'm a receiver -- that's my thing (laughs).
Stefon, you were a player of the year candidate last year and you won the Army Combine MVP. Does that put extra pressure on you to repeat what you did last year now that you'll be a senior?
Diggs: Yeah, in a way. And it would be disappointing if I didn't do the same thing again. But, you know, I didn't win the player of the year and my goal is to be Gatorade Player of the Year. I'm going to work extra hard in the classroom to get that award. I still have a lot to do in [my high school career].
What do you guys have to do to get even better on the field?
Diggs; A lot of it is training with the team and developing more chemistry. We both have personal trainers and train together. We have to get more team-oriented.
Brown: I have to work on believing in my line every play. That's not something I'm used to. I would get on them right away when something bad happened. I have to be a little more patient.
Diggs: I'd say I have to put some weight on, too. My trainer has helped me put on 10 pounds already. …
In a lot of places, like Texas, everyone is so big and bulky and people seem to like that. But I see that and say, 'Just because you're so big doesn't mean you're talented.' But on paper size looks good. And I want to look good (laughs).
You guys both play on offense and defense. Which do you like more?
Diggs: We both love defense. I mean really love it. But we make a better effort and have more of an impact on offense. That's where we make our names.
Brown: Yeah, I agree. There's nothing like running the ball.
What's your mentality going into a game?
Brown: Oh, it's unbelievable. It's intense. It's like a Ray Lewis mentality: 'Ain't no body gonna come in here and hit me in the mouth. You're not going to step in my house and get away with it. You're going to get showed up.'
Diggs: That's pretty much it. I can't say it any better then that (laughs).
How do you guys prepare for a game?
Brown: We dress each other (smiles).
Diggs: Yeah, you gotta look good, you know? Look good, feel good, play good.
Brown: The day before a game Stefon comes over here [to the Dancels] and we'll chill and have a nice dinner. Then we'll pick out what we're going to wear and get our colors straight. We got to match our socks, shirts, everything.
Diggs: Don't worry, we're straight (laughs).
Brown: Yeah, don't get the wrong impression here (laughs).
Diggs: We listen to music, too.
Brown: Yeah, but I'm from Baltimore and they don't like that Baltimore music -- club music -- down here. Stefon and all them are always listening to Go-Go and hip-hop -- stuff like that. I'm not into that.
Diggs: Yeah, get that [Baltimore music] out of here (laughs).
What do you guys do when you're not playing football? What do you do when you're hanging out?
Both: (laughs)
Diggs: We have some nice evenings.
Brown: Yeah, some very nice evenings (laughs).
Diggs: To be continued (laughs).
If you could compare your guys' games to another running back and receiver, who would it be?
Brown: A lot of people say Adrian Peterson for me. I'm a strong runner who can run you over but has the speed to break away…. I don't have the fumbling problem though (laughs).
Diggs: I'd say DeSean Jackson. He's a playmaker and he makes the impossible possible. And he makes it look good -- that's key (laughs). He talks a little bit, too, but he gets the job done. And as long as he gets it done, you can't say nothing to him.
OK, so take me through a game. You're playing DeMatha. It's intense. You guys are yapping and jawing. What are you guys saying?
Brown: 'Watch this.' Plain and simple -- I just say 'Watch this.' But I don't really say something to them unless they say something to me. Usually I just turn around and say something to myself. Then I'll go out, lower my shoulder and just embarrass him on the next play.
Diggs: I'll be lined up at receiver and [the cornerback will] be lined up a little too far off the line. It's like they're scared I'm going to run right by them. So I'll be like, 'Come on man. You got to get up closer so I can get to know you. We got to get personal.' …
So, yeah, I try to have a little fun and also get in their heads at the same time. They usually tell me to shut up after awhile, but it's all good. Nothing personal.
OK, so you guys won a championship in 2009, a championship in 2010 and you got to be with the top junior recruits in the country at the All-American Combine. What was the most special of those three?
Brown: That second championship [this year] because we blew DeMatha out. That's the first time that ever happened to DeMatha. That was sweet.
Diggs: Yeah, you know, the Army thing was OK and it was something I worked hard for. I appreciated being selected for it and it made me realize, 'Hey, I am pretty good.' But that second championship was really special. DeMatha never got going and we put 44 points on them.
The mentality has definitely changed in this Good Counsel-DeMatha rivalry. You guys come in and you're hunting, hunting, hunting DeMatha. Now, you're most certainly the hunted. Do you like being on this side a little better? Or would you rather still be underdogs?
Brown: Oh yeah, we like being the hunted.
Diggs: In our freshmen years we had Jelani (Jenkins) and Caleb (Porzel) and we still didn't get that ring. It felt pretty bad to have all that talent and come up short. So to get a ring after our sophomore and junior years -- that felt real good. We have no intention of letting that [feeling] go. We like being on top.
So, are we thinking three-peat in 2011? Can Good Counsel beat the boys over in Hyattsville three years in a row?
Brown: Oh, it's going to happen (smiles). Mark my words.
Diggs: He's right, he's right. You know, our sophomore years we got one, but [Wes and I] weren't even the main guys. Last year, yeah, we were up there -- pretty important to the team. But now, this year, we're the seniors. We're the guys. We have to bring it home one last time.
Do you guys feel like you're the best running back-receiver combination in America?
Both: Yes.
Brown: It's our chemistry. We know exactly what each other is going to do. We have eye signals, that sixth sense about us. When we hit the field, we know how to motivate each other, help each other, get each other ready. When Stefon gets frustrated, I'm immediately right there to pick up the slack. And he does the same for me.
Diggs: You can't stop us both. It's impossible. You stop the run, but you ain't stopping the pass. You stop the pass, but you ain't stopping our running game.
But there must be some moment of mortality for you guys. Give me a moment when you were beaten.
Diggs: I got beat on one of the first plays against St. Xavier this year. It was so loud I couldn't hear anything. My safety made a call, I didn't hear it and I got beat deep. After that I was like, 'OK, this might be a long day -- it's a little too loud.' But then I thought, 'No, that's an excuse. I've got work to do.' I played pretty well the rest of the way.
Brown: Same St. Xavier game. Our fullback couldn't get to the blocker quick enough and I got hit in the backfield a few times. Then, obviously, I got injured. It doesn't get much lower then that.
Now, take me through a game when it all came together for both of you. A game when you were both clicking together.
Diggs: It was that second Gonzaga game when we just destroyed them. The pass opened up the run and the run opened up the pass. Everything was just open. …
Zach [Dancel] would drop back like he was going to pass and the defense would bite. You know what happened next? Wes Brown, 90-yard run. …
Then on the next play we'd play-action to Wes. And you know what happened next? Stefon Diggs, 90-yard catch. OK, not quite, but you get the idea (laughs).
Is there anything a defense can do to stop you guys (laughs)?
Brown: Maybe if we go to different schools. If we're together - not a chance.
OK, let's play that angle. Are you guys a package deal heading to college? Do you want to play with each other?
Diggs: Yes, that's the idea.
Brown: Yes, but just because a coach recruits one of us doesn't mean he's automatically getting the other one. He's got to want the other one, too. He can't just be like, 'Oh, we'll take Wes because we really want Stefon.' He has to have a role for both of us.
Diggs: Right. You can't just offer one of us and then I don't hear from you for a few months.
Do you guys care where you play? East Coast? West Coast? Big school? Small school?
Brown: Not really, but it's got to be a big school.
Diggs: Yeah, a big school. We want the stage - the spotlight (laughs).
What about after college. Do you guys both want to play in the NFL? Is that the goal?
Diggs: Yes, that's something we'd like to do. But the real goal is to make mamma happy. That's the only goal.
Brown: Right now, we have to make it. We've been through a lot growing up. We have to make it for our families.
What happens if you fail?
Brown: Then we try again. We'll go to the minors -- AFL, Arena League, whatever.
Diggs: Yeah, you have to understand -- We. Have. To. Make. It. We can't fail.
Brown: We won't fail. We have too much drive.
Diggs: Ain't no body going to stop us. We'll get there.